The New FutureDrive NG+
Fast, accurate, and efficient electronic turning of gas turbine engines.
The FutureDriveNG+ electronic turning tool automates the gas turbine engine borescope inspection process by reducing manpower and hours, while providing fast, accurate, and efficient assessment of engine condition. The FutureDriveNG+ is the same system you are used to but with new and improved features to make your job easier.
OPTIMIZE YOUR ELECTRONIC TURNING INSPECTION PROCESS
Fewer People, Less Time
The FutureDriveNG+ allows borescope inspections to be accomplished by a single technician, reducing shop costs and labor inspection hours more than 50%.
Less Effort
The FutureDriveNG+ is easy to use and can be set up in minutes. Simply connect the cables, attach the motor, plug it in, and go. Use an automated, hands-free inspection method, or choose to rotate the engine one blade at a time. Its upgraded motor encoder allows for better resolution and accurate turning.
Accuracy
Stop at any blade, return to any blade. The FutureDriveNG+ allows inspectors to turn bi-directionally, if applicable, easily flag damaged blades, and store the location to allow them to return to any blade with just the push of a button. Inspectors can now continuously turn in both directions, CW and CCW, up to 999 turns.
Portability
The FutureDriveNG+ comes in a rugged, portable carrying case with wheels that contains everything you need to rotate the engine. This case allows the inclusion of an offset adapter and up to 3 total engine adapters*. The self-seeking power supply works on worldwide power systems.
Expandability
The FutureDriveNG+ is an OEM source data solution for a wide range of Rolls-Royce, GE, and CFM engines with Pratt and Whitney options also available. Software updates for your fleet's new engines can easily be field updated in less than 15 minutes.
Flexibility
The FutureDriveNG+ offers the choice of a wireless or wired capability to accommodate the requirements of each customer. Both options offer the same performance and capabilities.
SUPPORTED ENGINES
CFM56-5B
CFM56-5C
CFM56-7B
CFM56-7BE
CF34-10A
CF34-10E
GP7200
P20
TRENT XWB
TRENT 7000
TRENT 1000
TRENT 900
GEnx-1B
GEnx-2B
GE9X
LM2500-M&I CF6-6
LM6000-M&I CF6-80C2
LMS100
LEAP-1A
LEAP-1B
LEAP-1C
AE2100D3
Carry Case
31.3" x 20.4" x 12.20″, 39.2 lb (17.8 kg) including all contents. Rugged and portable with wheels. Take the FutureDriveNG+ system anywhere and operate right out of the case.
Hand Control
2" x 5" x 8.75" (5.08 x 12.70 x 22.23 cm), 1 lb. (0.45 kg). Large backlit LCD screen displays engine information and blade number. Select operating modes and conduct your entire inspection from the hand control, or connect the hand switch or foot pedal to accommodate your inspection needs. This new system allows easier access for battery replacement.
Drive Motor
3.25" x 2.5" x 10" (8.26 x 6.35 x 25.4 cm), 5 lb. (2.27 kg). Used with the proper adapter, the drive motor precisely rotates the Intermediate Pressure Rotor or the High-Pressure Rotor respectively, with digitally controlled, high-torque motor and gearbox for unparalleled accuracy.
Foot and Hand Switch
Foot Switch: 2" x 3.5" x 5.5" (5.08 x 8.89 x 13.97 cm). Rotate the engine and flag damaged blades to perform a completely hands-free inspection.
Hand Switch: 0.75" diameter x 5" (1.91 cm diameter x 12.70 cm). Hang your hand control on the engine for easy viewing, rotate your engine, and flag damaged blades with the push of a button.
Power Unit
6.75" x 2" x 9" (17.15 x 5.08 x 22.86 cm), 4 lb. (1.85 kg). The hub of the FutureDriveNG+ system. Connect a video borescope and monitor display via composite video or S-video inputs. Produces clear video overlay information to your monitor. Built-in USB port allows for quick software upgrades.
Engine Adapters
One unit, many engines. Our product can connect to a wide range of commercial, military and aeroderivative engines.
Electrical Requirements 
Voltage 100 – 240 Vac, 2 A
Hertz 47-63 Hz
Fuse, 5mm x 20mm glass tube fast-acting, 250 Vac, 2A
SYSTEM HIGHLIGHTS
Motor Encoder
Upgraded for better resolution and accurate turning
Hand Control Housing
Easier access to battery pack
Bi-Directional Continuous Turn
Clockwise and counterclockwise up to 999 turns
Bi-Directional Incremental Turn
Clockwise and counterclockwise blade to blade motion with user selected dwell time
Dwell Time
Increased to 99 seconds for incremental turning
Backlash Dynamic Position Control
Motor will maintain current position to overcome angular momentum until next command is sent from the hand control
Serialization Capable Wireless Chip
Upgraded to be more robust and capable
Battery Pack
Upgraded to extended life cycle
Automatic Serial Number Verification
Prevents software update errors
Communication Capability
Allows FutureDriveNG+ turning tool/MviQ Borescope communication
Re-sequencing Feature
Automatically moves most engine software to appear first on engine list in the hand control
Modified Pelican™ Case
Allows inclusion of an offset adapter and up to three engine adapters depending on size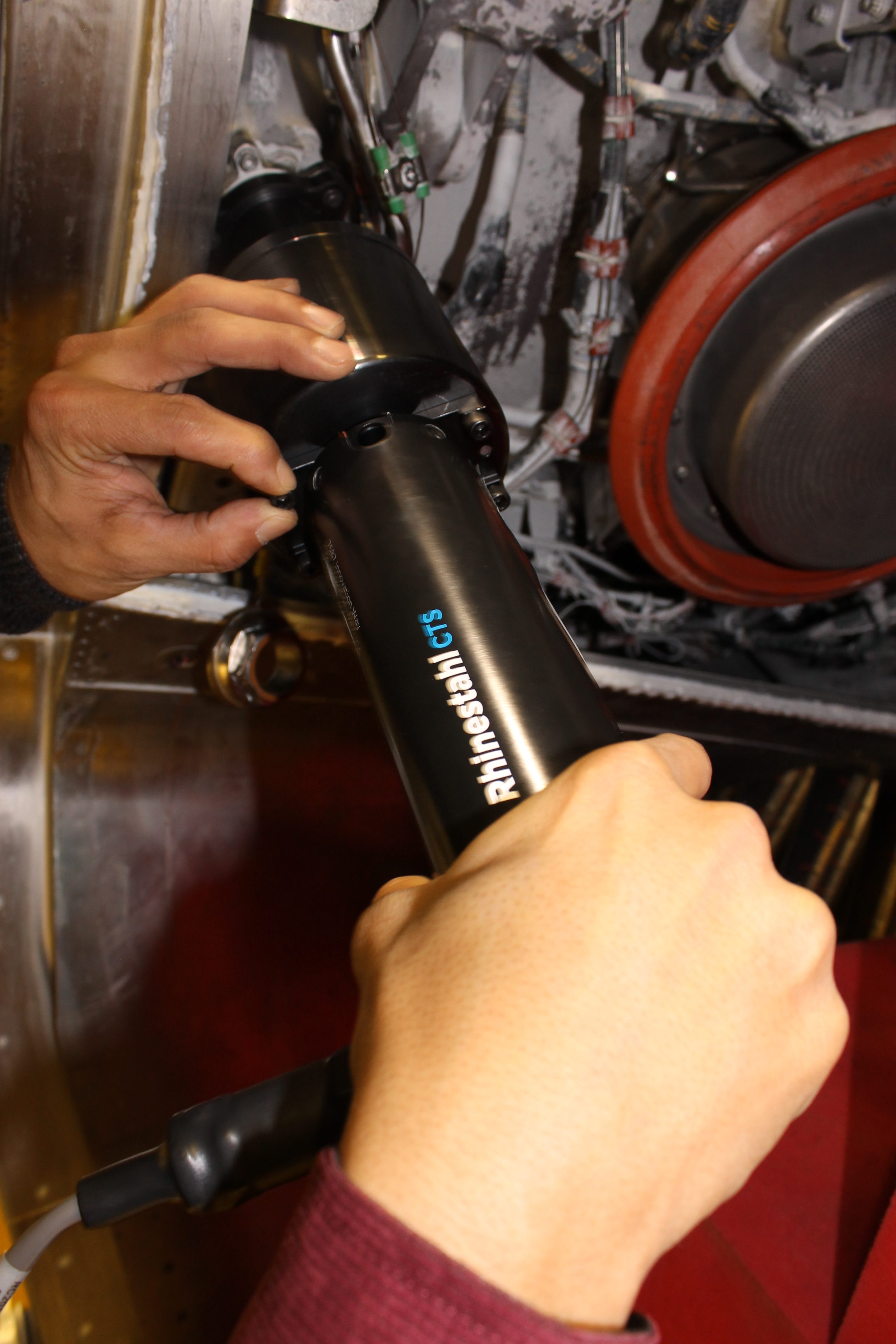 PROVEN SAFETY SYSTEM TO PROTECT YOUR JET ENGINE
FutureDriveNG+ uses torque limits provided directly by the Jet Engine OEM to prevent out of limits torque inputs.
FutureDriveNG+ includes a shear pin with a mechanical torque limit designed to break if the system reaches 95ft-lbs.
FutureDriveNG+ uses some adapters, developed jointly with the Jet Engine OEM, that include a slip clutch (torque limiter) as an additional safety feature to protect the jet engine from being over torqued.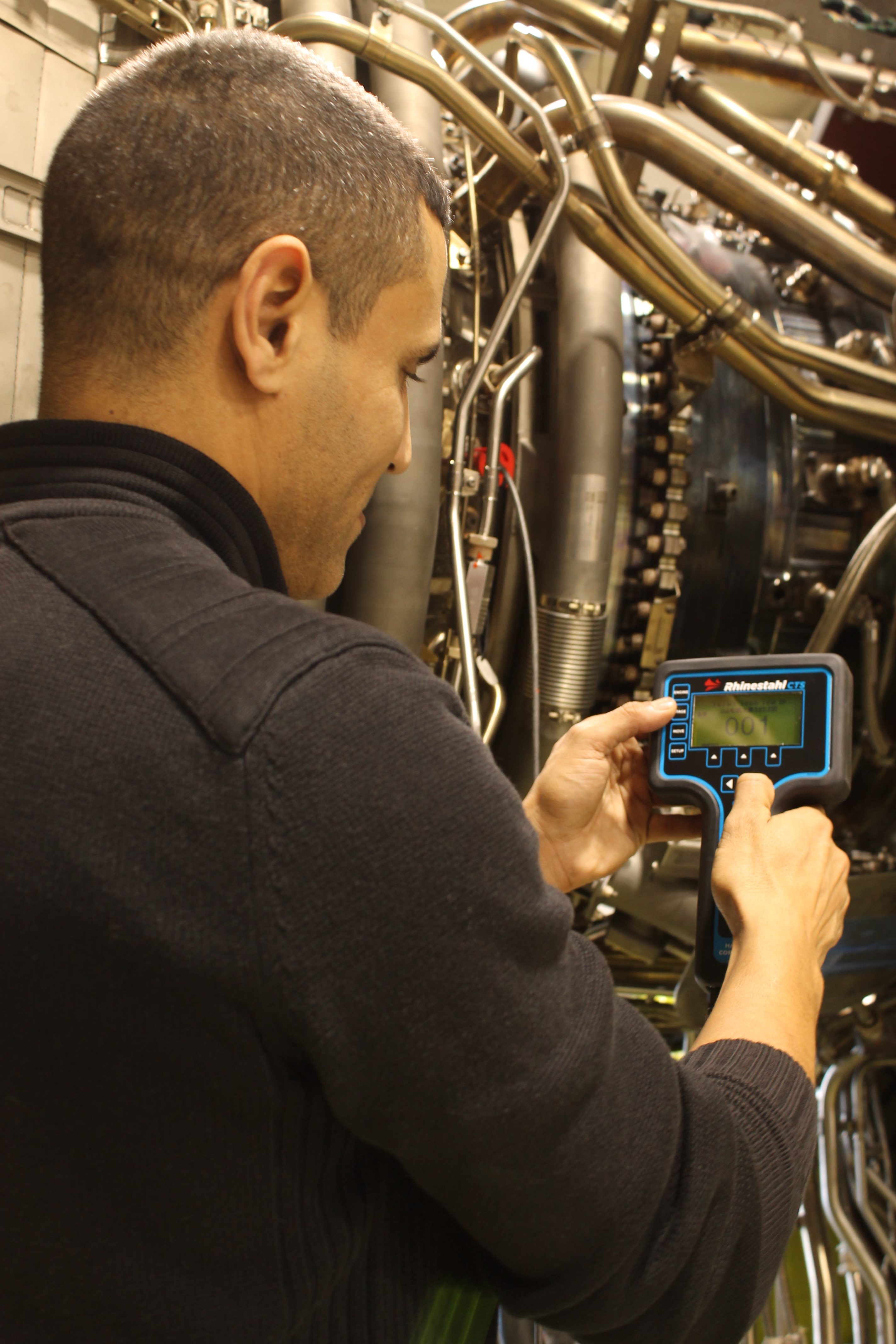 BUILT-IN SAFETY SYSTEM TO PROTECT YOUR TURNING TOOL
FutureDriveNG+ includes a fuse and filter design to protect power unit from power surge.
FutureDriveNG+'s motor and hand control cables include a trim trio connector and locking mechanism to ensure proper and secure connection.
FutureDriveNG+'s hand control includes a neoprene boot to protect hand control assembly during operation.
FutureDriveNG+ includes a rugged Pelican™ Storm case for protection.
If you have any questions regarding your FutureDriveNG+ System, reach out to our responsive technical representatives.
Contact us