September 23rd, 2019
Ohio, Kentucky, Indiana Region Leads the Nation in National Manufacturing Day Events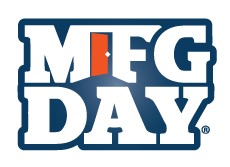 Ohio, Kentucky, Indiana Region Leads the Nation in National Manufacturing Day Events
(Cincinnati, OHIO) September 23, 2019 — National Manufacturing Day is a coordinated effort across the nation to show parents, students, and educators what manufacturing today is. Nowhere in the country are there more Manufacturing Day events scheduled than here in the Southwest Ohio and Northern Kentucky region.
In the month of October, more than 4,500 students will participate in 68 different events designed to inspire the next generation and show off the highly skilled jobs available in this region. There is an abundance of jobs available with local companies right now. According to REDI Cincinnati, this region has seen a 4.7% increase in manufacturing jobs in the last five years – higher than the 3.7% national increase over the same period of time.
The events in this area are coordinated by the Advanced Manufacturing Industry Partnership (AMIP), an employer-led collaboration of over 300 members working to open young minds to the lucrative job opportunities, and an alternative to college debt available through manufacturers who offer paid college tuition.
Manufacturing Today
"Advanced Manufacturing today is high tech and highly skilled. It's a fusion of hands-on skills and leading-edge technology, where our employees work on some of the most advanced technologies in the world to create the products we use every day. Many Advanced Manufacturing jobs don't require a four-year college degree, but they do require specialized skills and training like Precision Machining and Welding – all jobs available right now," says Amy Meyer, chair of the AMIP.
"We want to excite students early and get them thinking about a career technology path for their junior and senior years of high school, so they can start co-op programs with our employers. They will have the skills to be immediately employable in good-paying jobs right out of high school," says Meyer.
Career Tech Education is Ready 
Educators are behind advanced manufacturing's efforts to develop trade skills at the high school level with two-year degree programs, certificate programs, and nationally recognized credentials like the National Institute for Metalworking Skills (NIMS) and the American Welding Society (AWS) available at Butler Tech, Cincinnati State, Great Oaks, and Sinclair College.
Starting hourly wages for machinists with a typical entry-level education of a high school diploma or nondegree award average between $14.96 and $18.36 an hour in our region, according to occupation data obtained from REDI Cincinnati. The median hourly wage is more than $23 an hour.
From the entry point of machinist, employees can progress to programming roles and manufacturing engineering roles within two to five years.
Co-Op Success Story
Colerain High School Senior E.J. Walton first participated in a National Manufacturing Day tour during his Freshman year of high school. He enrolled in the machining program at Colerain Career Center, a Butler Tech career training program, and is now finishing his final year of high school and participating in a co-op program with Rhinestahl AMG. What's next for E.J.?
"I'm looking at Lincoln Tech. It's like the MIT of machining. They have diesel tech, autobody, mechanical engineering. It's right next to the Indy 500 circuit, so you can be making parts for the Indy cars. I want to keep working my way up to running 5-axis machines or possibly working on the business side of things, but staying in the field," says E.J.
How Can Parents and Students Participate?
Schools that are interested in bringing their students to a regional manufacturing facility for a tour should contact Sean Kelley at sean.kelley@uwgc.org.
Students, parents, and educators are encouraged to check out iSPACE Day on Saturday, October 5 from 10:00 AM – 2:00 PM at the Scarlet Oaks Campus where the wonders of STEM education and careers will be showcased.
About the Advanced Manufacturing Industry Partnership (AMIP)
Advanced Manufacturing Industry Partnership (AMIP) is an employer-led collaboration of more than 300 members representing the Advanced Manufacturing Industry. The AMIP is funded and led by Partners for a Competitive Workforce, a strategic initiative of United Way of Greater Cincinnati. It also is affiliated with the National Manufacturing Association (NAM), the Ohio Manufacturing Association (OMA), the Manufacturing Institute (MI) and Dream It Do It OKI.