April 17th, 2019
Rhinestahl Signs 2 Full-Time Employees at 2019 Signing Day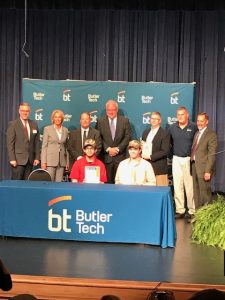 Butler Tech, a partner to Rhinestahl and the Advanced Manufacturing Industry Partnership (AMIP), hosted the 2019 Signing Day. This signing ceremony focused on launching Butler Tech students into well-paying, secured jobs after graduation.
Rhinestahl offered positions to two soon-to-be-graduates in the areas of precision machining and welding. We look forward to them starting in June!
Read more about the Signing Day here.
Secretary of Education, Betsy DeVos, was present at the event. Read about her statements here.