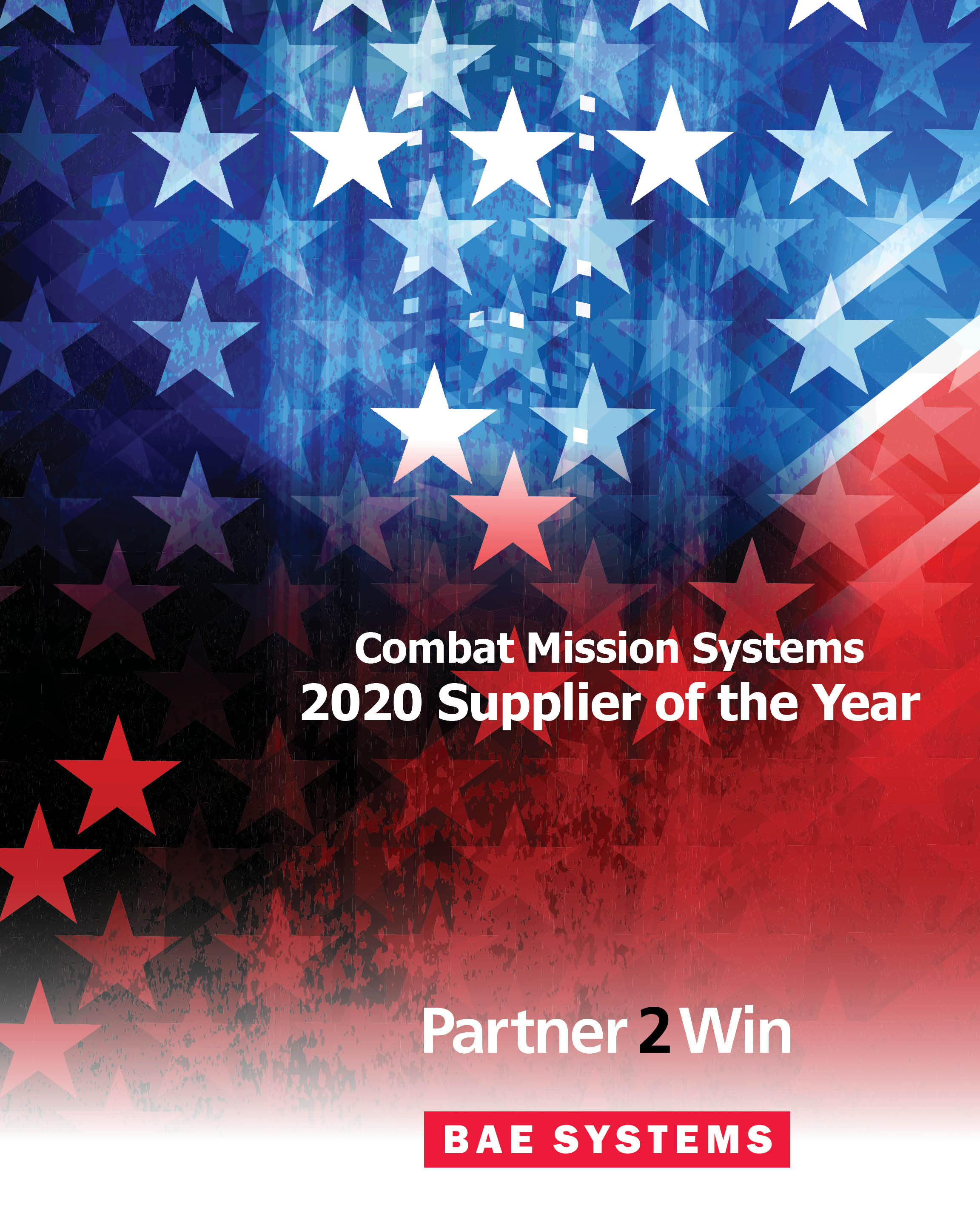 December 17th, 2020
BAE Systems Honors Rhinestahl AMG with a Supplier of the Year Award
Rhinestahl AMG Among More Than 20 Award Recipients Recognized at the Annual 'Partner2Win' Supplier Awards Ceremony
Mason, OH – December 15, 2020 – Rhinestahl AMG today announced it received a BAE Systems Partner2Win Supplier of the Year Award for Mk 45 Naval Gun International Supplier of the Year based on exceptional performance and contributions to supply chain success in 2020 for BAE Systems' Combat Mission Systems business. Rhinestahl AMG was honored at a virtual online ceremony and was selected from a group of more than 1,500 suppliers that worked with BAE Systems in 2020.
BAE Systems' Partner2Win is a global program designed to achieve operational excellence and eliminate defects in its supply chain by raising the bar of performance expectations to meet the demand of current and future customers. As part of the program, BAE Systems meets regularly with its suppliers at their locations to transfer best practices to ensure that the components and materials that compose BAE Systems products meet the highest quality standards.
"Recognition of our top-tier suppliers underscores BAE Systems' commitment to delivering quality products on-time and on-budget, in order to meet our customers' requirements," said Jeremy Tondreault, vice president and general manager for BAE Systems' Combat Mission Systems business. "We are proud to partner with companies – including Rhinestahl AMG– who are dedicated to delivering the products that protect the men and women in uniform."
About BAE Systems
BAE Systems provides some of the world's most advanced, technology-led defense, aerospace, and security solutions. The company employs a skilled workforce of more than 83,000 employees worldwide and operations in 30 states across the U.S. Working with customers and local partners, BAE Systems develops, engineers, manufactures, and supports products and systems to deliver military capability, protect national security and people, and keep critical information and infrastructure secure.
About Rhinestahl Corporation
Since 1967, Rhinestahl Corporation has continued setting the new standard in the industries it serves. With headquarters in Mason, OH, USA, Rhinestahl Corporation is a high-tech, fast-growing, privately-held company serving diverse markets globally through two complementary business units.
Rhinestahl Customer Tooling Solutions is the world's leading solutions provider of OEM-licensed turbine engine tooling, ground support equipment and aftermarket services across commercial and military aviation markets. With operation centers located globally, Rhinestahl CTS partners with its customers to provide the highest quality engine tooling solutions through an incredibly responsive account team and deep technical expertise that delivers an outstanding customer experience and a worry-free tooling program.
Rhinestahl Advanced Manufacturing Group exists to deliver a market leading customer experience. We make the procurement and supply of world-class precision manufactured goods simple and stress free by leveraging our unique manufacturing and supply chain capabilities to consistently deliver products at the desired quality and cost, on-time all the time.
Learn more at Rhinestahl.com.
# # #