January 24th, 2020
Rhinestahl AMG Donates Aluminum Scrap Materials to Lakota Robotics Team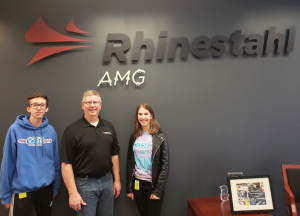 Lakota East High School students Courtney and Noah from the Lakota Robotics ThunderHawks team stopped by Rhinestahl AMG to pick up aluminum scrap materials donated by the company for their team.  The robotics team will use the materials to build their new robot for upcoming competitions. The Lakota robotics club began in 1997 at Lakota East High School, and has branched out to become a region-wide community activity group that has 48 members made up of students from 15 different schools including public, private, and career tech from Butler Tech and 10 school districts. The Lakota Robotics team participates in regional and statewide robotics competitions where students work in teams to design and build working robots themselves under the supervision of experienced robotics mentors.
Recently, Lakota East and West high schools hosted a Career Fair during which companies were able to view the robots the students have built in action. In describing the value of participating on the robotics team, the students mentioned that they learn leadership, management, team building, problem-solving, communication, and collaboration skills through their involvement. Companies can support the Lakota robotics team's efforts by becoming a sponsor of the team, including contributing in-kind gifts such as materials that can be used in constructing the robots.
The team's next event: The Miami Valley Regional Robotics competition to be held at Wright State University campus on February 26th-29th.
The Lakota East Robotics Club is located in Westchester County.  To reach out to Lakota Robotics email:  1038@lakotarobotics.com