August 21st, 2019
Summer 2019 Job Shadow Experiences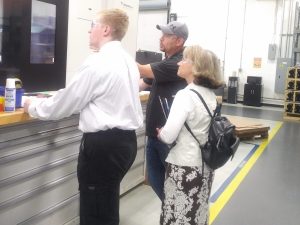 Deciding on a career is a challenging task for students today.  There are many options and pathways to consider, and finding the best information on a possible career choice can be daunting.  One way to gather information is through job shadowing. Job shadowing is an opportunity for a student to spend some time in a company observing an individual or individuals in a career of interest.  Rhinestahl AMG offered this opportunity to two high school students this summer interested in two separate career pathways.
Michael, a student at Diamond Oaks, part of the Great Oaks Career Technical School System, is in the Precision Machining program entering his senior year. He was invited to come to Rhinestahl AMG to observe the typical work day of a Precision Machinist at Rhinestahl AMG. AMG is also interested in providing parents or guardians the opportunity to increase their knowledge of advanced manufacturing and the careers available in the industry. With that goal in mind, an invitation was also extended to Michael's mother, Vivian, to tour AMG. During Michael's job shadowing experience, both he and his mother were welcomed and introduced to the team by AMG's VP and General Manager. He then toured the shop floor, meeting team members and witnessing key projects they worked on. He was able to ask questions and better understand what a career in precision machining looks like. Michael is also interested in the engineering field, and spent some time with the Engineering team. Michael found this to be a great learning experience, and his mother stated that having this opportunity completely changed her perception of the work environment and the work done in this type of advanced manufacturing industry.
The second student that completed a job shadow this summer at AMG came from Mason High School.  Andy will be entering his senior year at Mason and is interested in studying Mechanical Engineering at college next fall with intent to work in advanced manufacturing. Andy's job shadowing experience involved spending a full day with the Manager of Engineering at AMG and the Engineering team learning how they collaborate with the Operations and Quality teams. Andy was able to walk the production floor and understand how all teams work together to satisfy the customer's needs.  At the end of the day Andy commented that this experience at Rhinestahl AMG had confirmed his decision that being an Engineer was the right career choice for him!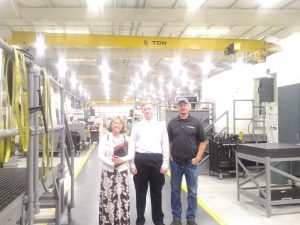 If you or someone you know is interested in a job shadowing experience, please reach out to Vickie McMullen, Director of Education Partnerships at Rhinestahl AMG.