June 26th, 2019
2019 Teacher Externship Recap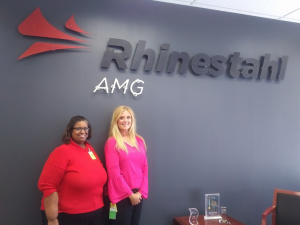 Rhinestahl AMG, along with other companies in the tri-state who make up the Advanced Manufacturing Industry Partnership (AMIP), focused on workforce development in advanced manufacturing. AMG partnered with Butler Tech, Cincinnati Public Schools and the Ignite Institute in Northern Kentucky to launch a Teacher Externship Program this summer. This program furthers the goal of AMIP to find a way for teachers to learn about advanced manufacturing, career opportunities in the industry, and share this knowledge with students, their parents and their peers.
From Rhinestahl AMG, John Thompson, VP and General Manager, Amy Meyer, VP of Corporate Development and Vickie McMullen, Director of Education Partnership met teachers interested in the program at a Butler Tech sponsored meet-and-greet. Through this activity Rachelle Henley, Talawanda High School math teacher for grades 10-12, and Harriet Richardson, Fairfield Freshman School math teacher, were selected to spend the week of June 10 – 14 at Rhinestahl AMG for intensive work-based learning of advanced manufacturing in a precision machining business.
The rotation schedule took them through the entire Rhinestahl AMG operation through the departments of Engineering, Sales, Human Resources and the production floor: Programming, Welding, Machining, Quality and Shipping. The teachers interviewed employees to better understand their roles in each department and how each function supports overall business operations. This information will assist in a final project to incorporate their learnings into lessons plans for their students. They will share their experience with students and educate them on the skills needed for career opportunities in advanced manufacturing. At the program's conclusion, Rachelle and Harriet expressed they "did not know what to expect, but it was a great experience at Rhinestahl AMG. Every staff member was great, informative, and had a passion for what they do." They also indicated the value of what they learned for their students. It will be very beneficial for their students' expansion of knowledge on how they can use science, engineering, technology, and math skills in trade careers.
For more information on how we support trade education, visit here.